Arkansas Mineral Collecting Literature
Order Arkansas Mineral Collecting Literature from Arts & Ideas Studio. Information for ordering by mail given on the order form.
---
Collecting Crystals, Currently Unavailable, update planned spring/summer 2015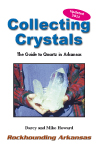 With updated crystal mine information, this book tells you the best places to collect quartz crystal and gives the tips, tools and techniques of how to collect crystal. It also shares the secrets of cleaning and preparing crystal for display. Discover the varietites of collectable crystal from one of the world's most important and accessible quartz-producing areas. Maps and travel guides make this text an invaluable guide for the beginning as well as the experienced collector. 100 black and white photographs and illustrations.
By Darcy and Mike Howard of RockhoundingAR.com
Paperback book: $16.95 This book is now out of print in paper copy.

A CD version of Collecting Crystals is also available for reading on your computer. The photographs are in color, which is a really big help to show how the crystals look in the ground, how the crystals look before and after cleaning, and gives an overall better view of how lovely the quartz crystals really are. The maps of collecting sites are printable; other text is read only.
CD version: $12.00
Mineral, Fossil-Fuel, and Water Resources of Arkansas, 1997
Edited by J. M. Howard, G.W. Colton, and W.L. Prior, AGC Bull. 24 – If you want to know what has been mined in Arkansas, and where generally, then this is the definitive book for you to get your feet on the ground! Contains 26 figures, 2 tables, an Appendix, Glossary and selected references on each commodity. 115pp.
$14.00 Shipping weight 15 oz.
Molybdenum in Magnet Cove, Arkansas, 1948
By D.F. Holbrook, ARDC, Div. of Geology Bull. 12., table and 2 maps. Summary of the discovery and exploration of the Mo-Ti property at Magnet Cove. 12pp.
$5.00 Shipping weight 3 oz.
Quartz, Rectorite, and Cookeite from the Jeffrey Quarry, near North Little Rock, Pulaski County, Arkansas, 1964
By H.D. Miser and C. Milton, AGC Bull. 21. Mineralogy and geology of this famous quartz collecting locality, written while it was still an active quarry.29 pp.
$5.00 Shipping weight 3 oz.
Mercury District of Southwest Arkansas, 1976
By B.F. Clardy and W.V. Bush, AGC Info. Circ. 23, Index. The definitive site guide to all the mercury mines and prospects in southwest Arkansas. If you are tired of collecting quartz and want to hunt for cinnabar and related minerals, then you need this book! Covers 67 mines and prospects, 3 map plates, and 8 figures. 57pp
$7.00 Shipping weight 11 oz.
Antimony District of Southwest Arkansas, 1979
By J.M. Howard, AGC Info. Circ. 24, covers 23 mines and prospects, 3 figures, and large foldout colored geology map with mine and prospect locations. Something different to visit and collect in Arkansas…stibnite, jamesonite, and stibiconite, along with quartz with stibnite inclusions! Index and reference list. 29pp.
$7.00 Shipping weight 10 oz.
Thank you and we hope you enjoy these books and magazines.
Refunds are limited to exchange of merchandise damaged in shipping.
Order Arkansas Mineral Collecting Literature