Welcome to Rockhounding Arkansas
Arkansas is famous around the world for quartz crystals, diamonds, and interesting rocks and minerals. Here is the authoratative guide to rockhounding and mineral collecting in our state.
If you are a beginner or an accomplished mineralogist, you'll want to read through the stories and information presented here for the enjoyment of this fascinating hobby.
To learn about and download the Igneous Rocks Annual Report by J. Francis Williams, 1890. click HERE.
To learn about and download a 2016 publication on Magnet Cove, Arkansas, click HERE.
To learn about and download a 2017 publication the minerals of the Wilson Springs Vanadium Mines at Potash Sulphur Springs, Garland Co., Arkansas, click HERE.
Collecting Crystals, updated 2011 in print and e-book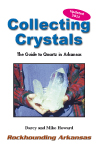 Updated with crystal mine information, Collecting Crystals was a guidebook written for all persons who collect quartz, either as an amateur, advanced hobbyist, or serious collector. Step-by-step, this book takes the collector through the complete process of getting ready, getting to the best sites, collecting, cleaning and trimming the crystals for display at their best. 100 black and white photographs and illustrations.
This book is now out of print in paper copy.


A CD version of Collecting Crystals is now available for reading on your computer or print it yourself. The photographs are in color, which is helpful to see how the crystals look in the ground, how the crystals look before and after cleaning, and gives an overall better view of how lovely the quartz crystals really are. Order the CD on our Books for Sale page.