Let's Go Rocking!
DO YOU LIKE the outdoors? Have you ever gone hiking and seen a rock in a creek or along a mountain trail? Some people can't resist picking up different-looking rocks and bringing them home. If your child has a special "stash" of rock and crystals under the bed or on a shelf, you may have a budding rock hound!
Arkansas Treasures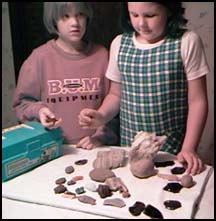 First-time collectors usually go for quantity, but as the rock gardens grow around their house, they become more selective of what they bring home. Of course, you may want to start by looking at the rocks in your own back yard or neighborhood.
Here in Arkansas, rockhounds search the valleys, mountains, and hillsides for many different varieties of rock, minerals, crystals and fossils. The Ouachita Mountains in west Arkansas, and the Ozark Mountains in north Arkansas, are excellent areas for the amateur hobbyist to start this healthy outdoor activity.
Arkansas is home to numerous interesting rock outcrops along the roads in the mountainous areas, where rocks show a variety of colors, textures, and shapes. Most rocks on the surface are sedimentary, which means they originated in oceans that covered the land many millions of years ago. They include sandstone, shale, limestone, chert, dolostone, and siltstone.

Sometimes you might see a white streak cutting across the bedding of these sedimentary layers. The white rock is composed of quartz, a mineral which is deposited in fractures or breaks in the sedimentary rocks. When very hot water percolated through the fractures, it cooled and formed quartz. Sometimes, open cavities called "vugs" are lined with quartz crystals, all pointing inwards.
Getting Started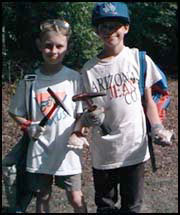 You need only a minimum of equipment to get started in this hobby. The most important items include a chisel-edged hammer, a short pry bar, cloth or leather gloves, newspaper for wrapping the best pieces, and safety glasses or goggles. Also a pencil and notebook are handy for noting directions to the site, sketching the outcrop, or describing and labeling the rocks you're collecting.

Depending on the time of year and where you're collecting, you may want to bring along food, beverages, bug spray, sunscreen, band aids, and calamine lotion! Clothing should consist of long pants, boots or heavy tennis shoes, and a shirt you don't mind getting dirty. An extra set of clothes in the car is handy if you get really muddy or dirty. And it can happen!

Rock hunting can involve anything from a 15 minute walk to spending the weekend out. There are a number of "dig for a fee" quartz mines in the Ouachita Mountains between Little Rock and Mount Ida. See feepay mines. Or you may simply want to get out and look along the timber access roads which crisscross remote parts of the mountains in the central part of Arkansas. If you visit north Arkansas or Crowley's Ridge in northeast Arkansas, don't forget to look in the gravel bars and creek drainages for agates, banded chert, ocean fossils like clams, snails and oysters, and petrified wood.
In Arkansas we're lucky to have a special place called Crater of Diamonds State Park where you can hunt for diamonds. Even if you don't find a diamond, you can still pick up some agates to take home and polish.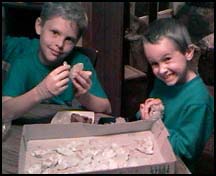 Once you collect your prize specimens, you will want to have them identified and then locate some reading materials suitable for the beginning collector. Be sure to remember where they came from, because the location is necessary to assist whoever is examining the samples.
A good first source of information is a science teacher at your child's local school. Also, either the school library or the local community library may have books suitable for the novice collector. There are numerous rock shops around our state. The owners are always interested in helping a beginner recognize a find. Helping your children identify the stones they discover can be quite challenging for a parent. The Arkansas Geological Survey in Little Rock can provide expertise in identifying all types of rocks, minerals, and fossils.
Don't be bashful about asking what your sample is, how it formed, and how it got to where you found it. Each rock and mineral specimen has its own story to tell.
When Mikey was a little kid, he had a cousin who took him crystal collecting. He got hooked for life!