Tourist Sites to See
IF YOU ARE on vacation, or planning one, there are plenty of things to do in Arkansas while you are taking a break from rockhounding. Aside from all the normal tourist activities at the lakes and recreation areas, here's some educational and entertaining places you can visit.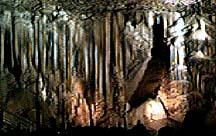 GO CAVING! A listing of commercial caves in Arkansas. All are located in the Ozark region of north Arkansas where karst features develop in major limestone and dolostone units. You should call ahead because all the privately owned caves are open at different times and seasons. Fees differ from cave to cave.
Free caves:
Two free caves, Cob and Eden Falls, are located at Lost Valley State Park off AR Hwy 43 near Ponca, Newton County. No guides, no lights - bring your own. Located at the end of a 3.5 mile hiking trail. Waterfall in Eden Falls Cave. Bring a snack and water.
Devil's Den State Park in Washington County of northwest Arkansas has two caves: Devil's Den and Devil's Icebox. Bring your own lights and water. There are NO GUIDES in the caves at the state parks. The caves at Devil's Den are presently closed to public entrance due to white nose syndrone, a fungus widely affecting bat populations in the USA.
Blanchard Springs Caverns, north of Mountain View between Allison and Fifty-six on AR Hwy 14, Stone County, (501)757-2211. Adults $9, under 16 $5.00. Open year round. Truly one of the most spectacular live caves in the world! More decorations than Mammoth Cave in KY and dripping with water - unlike Carlsbad, NM. If you can only visit one cave in AR, this one should be it. Run by the US Forest Service. Both photos in this section are from Blanchard Springs caverns. Two different guided tours. Adults $9.00, under 16 $5.00

Cosmic Cavern, northeast of Berryville on AR Hwy 21, Carroll County. (501)794- 2298. Adults - $8.95, 4-12 $ 4.95, children under 4 free.
Hurricane River Cave, between Harrison and Pindall off US Hwy 65, Boone County. Adults - $8.50, 5-12 $4.50, children under 5 free.
Mystic Cavern and Crystal Dome Cavern, off AR Hwy 7, seven miles south of Harrison, Boone County. 888-743-1739. Adults $8.95, 5-12 $4.50, children under 5 free. Open March - November, and in December when weather permits.
Onyx Cave, east of Eureka Springs of US Hwy 62, Carroll County. (501)253-1739. Adults $6.95, 12 and under $3.95.
War Eagle Cavern, between Eureka Springs and Rogers of AR Hwy 12, Benton County. (501)789-2909. Adults $6.75, 5-11 $3.75 under 6 and over 100 free.
Old Spanish Treasure Cave North of Gravette 1 mile on Arkansas Highway 59, Benton County. Guided tour. (501) 787-6508. Adults $6.95, 12 and under $3.95, call in advance for group discounts. Open march-August. Call for schedule for
Visit Arkansas State Parks!
Crater of Diamonds State Park
Route 1, Box 364, Murfreesboro, AR 71958 (501) 285-3113

Crater of Diamonds offers a one-of-a-kind adventure... the chance to hunt for and keep real diamonds. Search a 35 acre field (the eroded surface of an ancient, gem-bearing volcanic pipe), the world's only diamond site where you can prospect for and keep any gems you find. Prospectors enter the field through the park visitor center which includes exhibits and an A/V program explaining the area's geology and tips on recognizing diamonds in the rough.
Diamonds were first discovered here in 1906, and since then over 100,000 have been found including the 40.23-carat "Uncle Sam", the 16.37-carat "Amarillo Starlight" and the 15.33-carat "Star of Arkansas". Since the Crater became a park in 1972, over 20,000 diamonds have been carried home by visitors. Amethyst, garnet, jasper, agate, quartz and more can also be found. Digging tools are available for rent and the park staff provides free identification and certification of diamonds.
Admission to Mine Area/day
Adult - $4.00 each; Child (6-12) - $1.50 each
Group Rates (20 or more with advance notice) - 1/2 above fees
Archeological State Parks

Hampson Museum State Park
P.O. Box 156, Wilson, AR 72395 (870) 655-8622
Hampson Museum exhibits a remarkable collection of artifacts from the Nodena site, a Late Mississippi Period culture. The Nodena were farmers who developed a complex civilization of art, religion, political structure and trading networks. The remarkable collection owes its preservation to Dr. James K. Hampson. He and his family meticulously excavated, studied and inventoried the mounds and subsurface remains of this complex civilization which inhabited the area from A.D. 1350 to 1700. The collection was donated to the State of Arkansas in the 1950s.

Parkin Archeololgical State Park
P.O. Box 1110, Parkin, AR 72373-1110 (870)755-2550
Parkin represents a turning point in American history. This park interprets the Mississippi Native American village located here from A.D. 1000 to 1550 and visited by the Hernando do Soto expedition in 1541. Arkansas State Parks and the Arkansas Archeological Survey manage the site as a research station, museum and interpretive center. Archeological excavations are conducted each July thru October. The park is in the community of Parkin at the junction of US 64 and Ark 184.

Toltec Mounds Archeological State Park
490 Toltec Mounds Road, Scott, AR 72142 (501)961-9442
Toltec preserves and interprets Arkansas' tallest native American mounds. These mounds and earthen embankment are the remains of a large ceremonial and governmental complex inhabited from A.D. 600 to 950. Today this center is managed by the Arkansas State Parks and the Arkansas Archeological Survey. Facilities include a visitor center with exhibits, an A/V theater and archeological research laboratory. Site tours are available along the park's 3/4 mile handicap accessible trail.
Arkansas Natural Resources Museum
(formerly Oil & Brine Museum)
3853 Smackover Highway, Smackover, AR 71762 (501) 725-2877
The museum collects, preserves and exhibits examples of Arkansas' changing oil technology and brine industry, and focuses on the 1920s oil boom in south Arkansas. Working outdoor exhibits include an oil well, pumping rig and three derricks. Temporary and traveling exhibits are displayed inside the museum and two video presentations depict the discovery of oil and brine in Arkansas. Admission is free. The museum is on Arkansas Hwy 7 one mile south of Smackover.
Hot Springs National Park
Superintendent, P.O. Box 1860, Hot Springs, AR 71902
Rock collecting is not permitted in the park, of course, but you can see some interesting sites when you hike the mountain trails or drive to the overlooks. Legend has it that a fire-breathing dragon named Mogmothon heats the thermal waters. If you'd like to see exhibits featuring the geology of the springs and the local area, stop by the park headquarters and visitor center on Bath House Row.
Most of the hot springs are capped to prevent contamination, but two of the springs are left open. You can warm your feet in a pool below a spring flowing in Arlington Park, at Bath House Row in downtown Hot Springs. The Promenade is an easy, scenic walk behind the bath houses, where you will see outcrops of sandstone from which the springs issue.
The park naturalists give campfire talks at the Gulpha Gorge Campground. Many recreational activities can be found in Hot Springs, many of them around the area lakes. For detailed information, check with the Hot Springs Chamber of Commerce, P.O. Box 1500, Hot Springs, AR 71902.

Bauxite Museum
P.O. Box 245, Bauxite, Ar. 72011
Just off Interstate 30, 20 miles south of Little Rock between Benton and Bryant. Historical mining museum featuring memorabilia and equipment, correspondence, and mineral displays. Manned by dedicated volunteers. Free admission. Write to them to schedule a visit!

Mid-America Museum
400 Mid-America Park, Hot Springs, AR 71913
A series of displays about Arkansas miners, action museum for children; laser show. Traveling displays come here, call and ask what is current.

Arkansas Geological Survey
3815 W. Roosevelt Road, Little Rock, AR 72204
Displays of Arkansas rocks, minerals, and fossils, with free brochures describing them; geological publications; topographic maps of Arkansas; free publication list and state highway map upon request.

Discovery Museum
East Markham, P.O. Box 2137, Little Rock, AR 72203
Displays about Arkansas geology, fossils, and minerals; exhibits depicting history of the American Indian and early settlers.

Hot Spring County Museum
Ash and East Third Street, Malvern, AR 72104
Display of igneous rock from Magnet Cove and three-dimensional map; early local history.
KA-DO-HA Trading Post
P.O. Box 669, Murfreesboro, AR 71938; caddotc@aol.com
Privately owned display of Caddo Indian artifacts and mound builders culture. Open 9am-5pm Sept through May, 9am to 6pm June through August. While you are in Murfreesboro, this is the other place to go besides the diamond mine.