Sizes of Mineral Specimens
Like Godzilla, Size Does Matter
Sizes of specimens
Now a word about size. Do you have room to collect and keep those boulders? There are several sizes recognized for collectable specimens. Size counts when you are deciding what and how to collect. If you have unlimited space, you can collect any size you want. The rest of us, however, with limited space, must seriously consider the size of what we collect. In the space that you can keep and display 50 hand-size specimens, you would be able to keep and display 1000 thumbnail specimens. Does that put it in perspective?
Units of measure
At many rock shows and swaps, specimens are organized, traded, and sold in units called "beer flats." A beer flat is the two-inch tall cardboard box that is discarded after the six-packs have been stocked in the store. The boxes are about 11" x 17" and are ideal for storing all but the largest of your rocks and minerals. These boxes are so standardized and accepted among rock collectors that you can purchase fold-up white paper boxes of various standard sizes that fit into the beer flats and plastic snap-lid perky boxes that do the same.
Thumbnail specimens
If you can't keep the big pieces, a perfect alternative is to go for the smaller sizes. A thumbnail (abbreviated T/N) specimen will fit inside a 1-1/4" cube plastic box. If it won't fit, it's not considered a thumbnail. Those little plastic boxes are called "perky boxes" and are great for keeping your pieces clean and neat looking.
This T/N is wavellite from near Avant, Garland County, AR.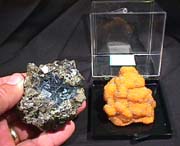 Miniatures
The next size up is a miniature. This size fits in a 2-1/2" cube plastic box. Miniature specimens of: pyrite from Cove Creek, near the Mo-Ti Prospect, Magnet Cove, Hot Spring County, AR (on left); smithsonite from Rush Creek Mining District, Marion County, AR (on right).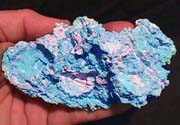 Hand Specimen
The next larger size is a hand specimen. If it's too big to fit in the 2 1/2 " plastic box, but not as large as a grapefruit, then it is a hand specimen. This is a hand specimen of turquoise from the Mona Lisa mine, Porter Mountain, Polk County, AR.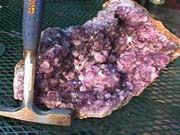 Cabinet specimens
Then come the BIG ONES. If it's bigger than the grapefruit and you can still pick it up and put it on a shelf, it's a cabinet specimen. Larger than that is too big to easily put in your house.
This photo is a cabinet specimen of amethyst from Brazil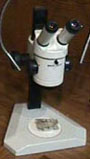 Micromounts
Guess what? Price has nothing to do with size if you want to get top quality specimens. A hand specimen can cost $2 to $100 or more, and the same can be said for a T/N. If you really want to collect the best crystals of any mineral, then you have to collect micromounts, abbreviated M/M. Any mineral that you must use magnification to view the crystals is a micromount, no matter what size the matrix. So a micromount might be a tiny chip smaller than your little fingernail, with good crystals, to a boulder-sized chunk with good crystals that you have to look at with magnification.


Often you may collect from boulders that contain micromount crystals to be trimmed down later to smaller sizes for viewing under a microscope. Micromount crystals are flowers of the mineral world. Due to their small size, the crystal shapes and forms are much more perfect than larger crystals. If you ever get a chance to look at minerals through a microscope, you may never collect anything but M/Ms again.


s